The Land of Hodge loves to celebrate in the amazing successes of other women. Today I have the pleasure of having Emmanuelle de Maupassant give a short author interview and promote her new book release!
Q :Who is your favorite author and what is it that really strikes you about their work?
A: I consume books, so I have many favorites, but the enchanted prose of Angela Carter is unsurpassed in inspiring me. She celebrates the ridiculous and the unexplained, the surreal and the dazzlingly grotesque. Her writing swoops from the vulgar to the ethereal. She had an amazingly innovative writing mind. Who else would think of describing a corset as being like 'the pink husk of a giant prawn, trailing long laces like several sets of legs'? (from Nights at the Circus).
Q : Tell us your latest news?
I've just released my Cautionary Tales: dark folktales inspired by Eastern European and Slavonic folk mythology. They incorporate research on superstitions and customs, from my time living in one of the former Soviet states (over a decade ago). I've blended eroticism with the macabre, and a touch of bawdiness. There's a strong narrator presence too, so they follow in the tradition of The Decameron and Chaucer's Canterbury Tales.
Q : Which themes preoccupy you?
A: I find myself drawn to stories of madness, of being caged by our minds and our circumstance: Jane Eyre and Wuthering Heights, Hamlet, Wilkie Collins' Woman in White, Sarah Waters' Affinity and Fingersmith, and Jean Rhys' Wide Sargasso Sea. In my novella (The Gentlemen's Club) the female protagonist seeks escape from the restrictions of gentile Victorian society. Most of us desire freedom and independence, yet live with social constraints not only on our behavior but upon how we are 'supposed' to think. It's interesting to ponder the nature of those 'lines in the sand'. Donna Tartt's Secret History also encapsulates much of what preoccupies me: the pull towards unknown experience (emotional, psychological and visceral) and how we live with the consequences of acting out (or of denying) those impulses.
Q : Can you share a little of your current work with us?
A: Here is an excerpt from Cautionary Tales, which introduces the spectral narrative voices.
We are behind the door, in the corners,

In the room where you've just extinguished the light.

We flicker in the shadow you cast on the wall.

We are the prickle on the back of your neck.

Curled, in words unspoken,

We are the shiver on your uneasy flesh,

The creep of the unknown on your skin.

 

Can you feel us?

Here, at the edges.

 

Look into the flames of our fire.

Gaze upon the smouldering embers.

We're whispering there.

We know the shade and umber of your soul,

Of all you covet,

We know what lies beneath.

 

We watch, are watching, ever watching,

from beyond, and behind and below.
Q : What was the hardest part of writing your book?
A: In writing my Cautionary Tales, my aim was to create a cocktail of dread, eroticism and black humour. I wanted the reader to feel uncertain as to where the emphasis would move next, to avoid predictability: in content, atmosphere or language. However, being so closely involved in the text, you do lose perspective! You can no longer tell if certain parts 'work'.
This is where a good editor can be of enormous help. For this collection, Adrea Kore came to my aid, helping define the narrative voices for the tales, and seeing to the heart of the themes in each story. She has played a fundamental role in shaping the tales as they appear today.
Buy links
My novella, set in 19th century London: The Gentlemen's Club
Cautionary Tales
viewBook.at/CautionaryTales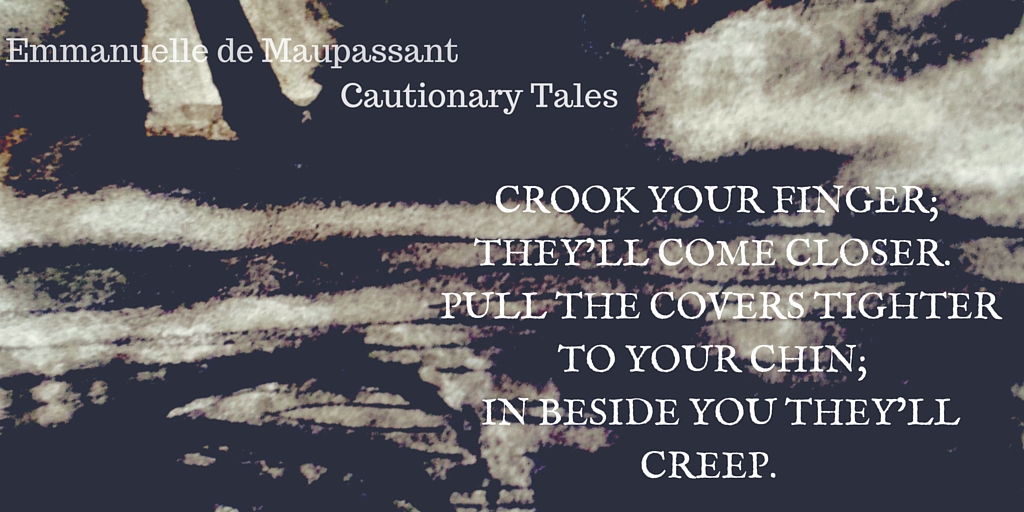 Bio
Emmanuelle de Maupassant lives with her husband (maker of tea and fruit cake) and her hairy pudding terrier (connoisseur of squeaky toys and bacon treats).
Other links – you can follow Emmanuelle at:
www.emmanuelledemaupassant.com
https://twitter.com/EmmanuelledeM
https://www.facebook.com/erotiquemuse