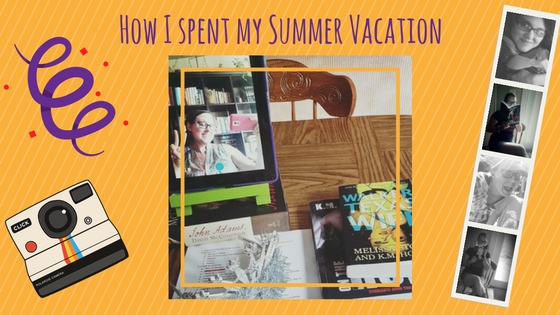 It is that time of year again where my Facebook feed is full of first day of school pictures. I of course posted my obligatory pictures of my own boys and their first days of school. For stay-at-home moms the first day of school is like Christmas. We look forward to it all summer. We count down the days on our calendars and make plans with our other mom friends to have coffee dates or work-ins for those of us who work from home. Today is the first day of having both of my kids in school and it is both hectic and glorious. The summer is a blur of deadlines, FB Live launch event, camps, fighting kids, and a couple "vacations" sprinkled in.
What I did over my Summer Vacation
Remember when you would go to school and have to write a paper or do an oral presentation to the class about what you did over the summer? Haa haa, well this is my report. This summer was spent breaking up sibling fights, playdates with friends, swimming and vacations. Some days I managed to get a little work done during the day and other days I stayed up until midnight to get all my work done.
What did I do? I published Texas and Tiaras this summer and am almost ready to publish two more books in the next seven weeks: Black and White Truth and Summer of '78. I also did a Facebook Live event to celebrate the launch of T&T. If you missed it you can watch the playback on-line.  I am in the process of getting Red on the Run audio book done and am having a blast working with my voice artist for the project. We are hoping to have it ready for release by the holidays. Both Red on  the Run and Walker Texas Wife also got nominated for the Summer Indie Book Awards. Red on the Run got nominated for two categories: Favorite Crime & Mystery. You can vote for more than one book per category and vote once a day here:
Red on the Run: Favorite Crime Book & Favorite Mystery
Walker Texas Wife: Favorite Mystery
What did you do over the summer? Comment below. 
What are my fall plans? 
Book Cellar Update: My co-author, Melissa Storm is taking a writing hiatus so our Remember the Stilettos Project has been pushed into 2017. While she takes a break I will be outline and writing the chapters for Annabeth and Vi so that we can get RTS out to you as early as possible in 2017. The third book in our series will be a fast paced and emotional roller coaster that I can't wait to share with you all.
Stand Alone Update: I am going to start self-publishing again and will be putting out my first novella, Summer of '78, the first week of October. I loved writing it so much that I am debating about whether or not to make it a novella trilogy.
The Syndicate Update: The sequel to the trilogy is going to come out on October 25. It is currently in final edits with my senior editor. Yay! This means I should have ARC copies available soon. I am also starting work on finishing the third book of the series, True Blue Son. My cover artist, Mallory Rock, is working on the mock up as we speak. I also decided this summer to write a novella spin-off that will give some back story for Alex and Sally.
Reviews: I am looking for more reviews for Red on the Run. Please contact me if you would like a free copy in exchange for an honest review. All reviewers will be put in for a drawing for a $10 gift certificate. Just email me the link to your honest review and I will add your name to the drawing.