Award winning, Red on the Run is the second edition run of my debut novel, Seasons. The new improved edition includes never before read scenes that will keep you on the edge of your seat begging for more. Are you new to the series and want to know more? Check out what readers have said about the series as well as the NEW book cover and blurb.
"…full of excitement, suspense, mystery, love, sex, thrills and chills." -Amazon 5 star review

"wow! Couldn't put the book down until it was finished."– Amazon 5 star review

"Absolutely fantastic! Move over Baldacci Prepare for competition from this new author! Spell binding – hard to put down. Had me captured from chapter one through the end! Thank you KM Hodge!"– Amazon 5 star review.
Add Red on the Run to your to-be-read pile on GoodReads.
---
What's the book about?
…because sometimes all you can do is run.
Before FBI Special Agent Alex Bailey and his new partner Katherine Mitchel are assigned their first case, Katherine uncovers damning evidence against a major crime ring known as The Syndicate. They control the police, Congress, even the FBI, and they'll stop at nothing to protect their interests. In what becomes the most dangerous investigation of his career, Alex must ask himself a simple question: How far is he willing to go to stop The Syndicate and keep Katherine safe?
Where can I purchase Red on the Run?
PURCHASE ON Amazon OR READ FOR FREE ON KU
GRAB A FREE Sample
Where can I purchase the Sequel: Black and White Truth?
---
How can I know when a new book is out?
Sign-up for my mailing list and never miss out on free books and goodies.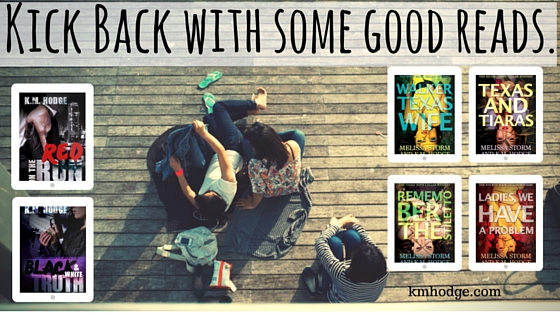 Are you on my mailing list? Sign-up today to be eligible for free ARC copies of my novels.